Israel's "spirituality" – something worth tasting
Israel, the Holy Land, an important spiritual centre for the three monotheistic religions. Israel is also an important location for the secondary meaning of the word 'spiritual', and here I am referring to the alcoholic kind.
The bible is littered to references to wine, starting with Noach in Chapter 9 of Genesis. Today, Israel's wine industry will happily try to compete with the global best at international wine awards. Over the past decade, the Golan Heights winery has consistently achieved great success. And the national industry's continuus improvement has been noted in the 2017 World Wine Awards of Decanter Magazine.
However, what many people may be surprised to learn is that Israel is now sprouting a whisky industry. Still very much in its infancy, the signs are clearly there.
For example, last night I attended an open house at the Milk and Honey Distillery in Tel Aviv. It marked the official launch of the first whisky to be distilled in Israel. Bottled just over three years ago at 46%, it was recasked and moved back to the distillery during its third year.
Now, I am only a bit of an amateur whisky buff, but I have to admit this product really is a very impressive start. the company was under the initial supervision of the master taster, the late Dr. Jim Swan. I was presented with a whisky with a light brown colour and a sweet citrus smell. The first taste was much stronger than I had expected, but the surprise was quicker replaced by a gentle orangey, fruity flavor. The finish had a hint of chocolate and left you wanting more.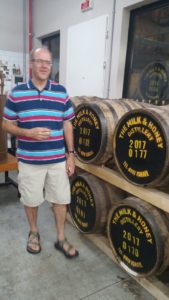 One of the ways that Milk and Honey have funded their start up is selling gin, a known by-product of the industry. This leads me to the north of the Israel, where a Canadian entrepreneur by the name of Zibell has set  up the Golan Heights Distillery.
This outfit did initially release a whisky less than three years old. To be polite, it tasted as young as it was. However, their Holy Land Gin has just been made a Silver Winner in the 2017 International Wine and Spirit Competition (IWSC). Hopefully, their true whiskies will also reach such standards.
Is there a takeaway from this? First, physically, very much so. I own a bottle of Milk and Honey whisky. What all these innovative Israeli ventures do demonstrate is that there are few barriers to what can be achieved in the Holy Land which is 50% desert.