Meet Michael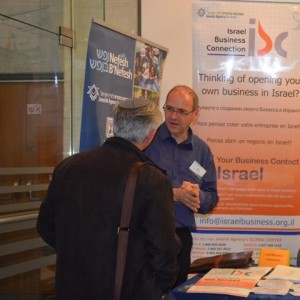 I grew up in London, England, where I graduated with an Honours' Degree in Economics and Government. I have lived in Israel since 1982, although my work takes me across geographical borders. My wife is a CFO and our three wonderful children continue to offer weekly trials in patience and understanding, despite having finished off their school years.
I have worked in both the public and private sectors, as well as having acted as the COO of a national children's charity. I have held managerial positions in an industrial enterprise, a multinational manufacturing concern and a software company. In 2006, I fulfilled my dream when I established a private coaching and mentoring consultancy to help small and medium-sized enterprises and others to grow their businesses.
My clientele comes from a diverse commercial base. A typical day can see me speaking with CEOs in both Hebrew and English. I meet with those at concept stage or just starting out, as well as full-fledged commercial concerns. My pervue covers the retail sector, high-tech, service providers, NGOs and much more. And the discussions range from budget creation and cash flow supervision, through to market definition and 'securing the deal', and on to human resources, time management and other personnel issues.
Each client is accorded the same direct attention. My clientele includes people from the three major religions. I accept new immigrants, as well as people who were born and educated in the Holy Land. Male / female, academic background / early school leaver – the key is to understand the true vision of the client, searching for practical solutions and an innovative approach. This will result in a defining positive impact on the business.
I believe that a healthy lifestyle is part of creating a successful business. I seek to workout four times a week. This is balanced by a mandatory cup of English tea (with milk) at the start of every day. And I admit that my week is often rounded off with a wee dram of Scottish single malt whisky. In between, I love outdoor hobbies and watching great theatre.
Mentoring – How You Can Benefit

"Business mentoring is a partnership based on trust. It offers on-going support and developmental opportunities. It addresses issues and blockages identified by the client, who receives pragmatic and objective assistance." (Sweeny and Clutterbuck)
The reason I love mentoring can be outlined in a true anecdote, and which I see played out several times a year.
My client, David, approached me in despair. Their own leading customer was going elsewhere. "What should I do," exclaimed a distresses David.
"Celebrate!"
"What? Don't you understand that I have commitments based on this supposed future revenue?"
"Yes, but from my perspective, your super client is not so lucrative for you. You now have a clear opportunity and incentive to create a new business model, unrestrained by the past."
A few weeks later, a smiling David called me up. "Do you know how much time I now have for other clients?" (What I surprise, I thought to myself).
Partners
While my main services are delivered individually, I am able to bring in colleagues and partners from several different organisations. These include: –
The Institute for Independent Business – with thousands of fellow executive associates in over 25 countries, this provides a valuable international resource of contacts
MATI – probably Jerusalem's most experienced agency for creating and developing new businesses. As one of their mentors, I invest much time, devoted to helping minority sectors such as new immigrants.
MAOF – I am one of their external consultants in the Tel Aviv and Jerusalem areas. Since its establishment, the teams have helped businesses create countless millions in new wealth and additional employment.
Israel British Chamber of Commerce – As a board member for nearly a decade, the Chamber has been a factor that has seen bilateral trade growth by 10s of percentage points, despite the global downturn.
JBNF – A co-founder and moderator of the monthly meetings, the Jerusalem Business Networking Forum has around 2,000 registered members. It has been the driving force for countless new partnerships for the capital of Israel.
MCT – An external consultant, Multi Channel Technologies spearheads the development and penetration of new software into the UK and European markets.